Biological organic fertilizer rotary drum granulator can make organic fertilizer from rice straw, rice husk, manure and other wastes. It is an important granulation equipment for processing agricultural waste into organic fertilizer. Burning a large number of rice straw causes serious pollution to the environment and affects people's health. In addition, the effect of straw burning on soil fertility was very low. Processing straw into organic fertilizer with high nutrient content not only avoids environmental pollution, but also has high return, high product quality and low production cost. It is of great theoretical and practical significance to develop biomass fuel and reduce environmental pollution.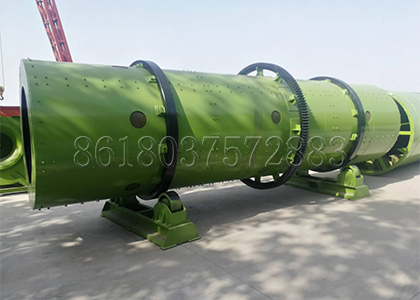 Working principle of rotary drum granulator for bio organic fertilizer
Under certain pressure and temperature, the bio organic fertilizer powder is compressed into cylindrical fertilizer by rotary drum granulator. The granulator uses extrusion force and friction force to compact sawdust and straw under high pressure and high temperature in the process of roller and drum movement. The material enters between the drum and the roller. The rotary drum is driven by a motor through a current reducer to rotate and extrude the die hole, and finally form the granular material. The main parts of rotary drum granulator are granulation roller and rotary drum. There are two kinds of granulator in our factory: single mode and ring mould.
Characteristics of rotary drum granulator for bio organic fertilizer
Organic fertilizer granulator has the advantages of low consumption, simple structure and convenient operation.
The rotary granulator has many functions and can be used in one machine. It can not only produce organic fertilizer, but also can be used for pellet processing such as feed.
3 organic fertilizer rotary drum granulator has small volume, small power and large output. It can be customized according to the user's output.
4 rotary drum organic fertilizer production line can save drying and cooling treatment and save cost.
Application range of rotary drum granulator
Rotary drum granulator can be used for organic fertilizer granulation, such as organic fertilizer sludge, straw, peat, etc.
Cake, vegetable cake, sesame cake and peanut cake were used as the main raw materials.
The rotary drum granulator can use corn, beans, rice straw, chicken manure as raw materials for feed and mixed feed. More info on the rotary drum granulator welcome to https://www.wastetofertilizer.com/rotary-drum-granulator/