Project introduction
Jordan organic fertilizer production line is a chicken manure organic fertilizer production line. Chicken manure production line, also known as bio organic fertilizer production line, is a set of production equipment which takes fresh chicken manure as raw material and produces natural organic chicken manure fertilizer through a series of processing.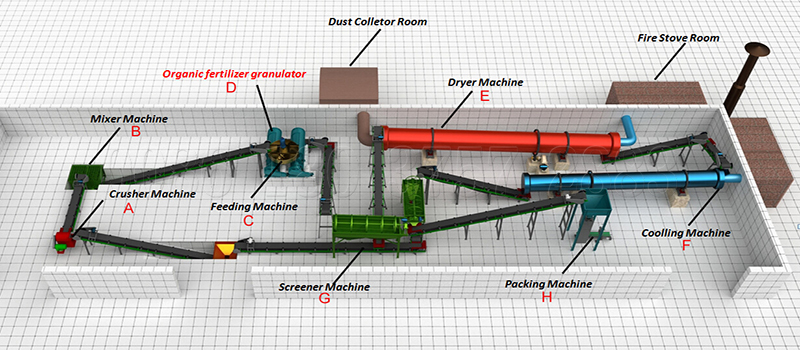 Production processes
There are two steps in the processing of commercial organic fertilizer in chicken manure production line: early fermentation treatment part and deep processing granulation part. The equipment needed for biological fertilizer production includes composter, organic fertilizer granulator, fertilizer crusher and screen machine, horizontal mixer, disc granulator, rotary dryer, cooler, screening machine, coating machine, packaging machine, conveyor and other equipment.
Raw materials 
More than 65% of the fermented rotten chicken manure is ground by the conveyor belt, and the raw material is crushed and mixed with the raw material mill through the electronic measurement (NPK). The good material is crushed by the belt conveyor and granulated by stirring drum. In the drum granulator, under the condition of water and steam, the raw material temperature rises and the viscous material is sticky Itself is triggered.
Granulation process
Under the continuous rolling of the roller granulator, the material gradually rolls into a ball, and at the end of the granulator, the material enters into the pelletizing plate through the belt conveyor. Within the range of the granulation plate, the particles are continuously high and high, and continuously roll and circulate under the gravity. The strength of the particles is further enhanced, and the appearance of the particles is more round. With the increase of the particles in the pelletizing plate, the particles are gradually increased. NPK fertilizer manufacturing process is very similar to Jordan's organic fertilizer production line.w